Multi-Adapter TetherTies
TetherTies Multi-Adapter Cable Tethers secure 2 adapters, with 3 loops – 2 for adapters, 1 for the cable. Need to secure more than 2 adapters? Contact us via chat (below) and our US based manufacturing and fulfillment team will custom assemble adapter cable tethers to meet your exact needs. Easily secure multiple video adapters, power cords or other computer peripherals with TetherTies Multi-Adapter Cable Tethers.
$40.92
Product Details
MULTI-ADAPTER SECURITY – TetherTies Multi-Adapters are the only pre-assembled cable tether that secures up to 3 computer peripherals together for maximum convenience and security. Our innovative design is the choice for securing multiple adapters at once (up to 3 per multi-adapter). TetherTies Multi-Adapters are 16" long, adjustable, and come pre-assembled for security in seconds with no hassle.

DURABLE & SECURE – TetherTies Multi-Adapter cable tethers feature a tamper-resistant design that reduces the chance of loss and theft. In a modern workplace requiring access to multiple adapters and immediate resolution; protect your technological items with the industry's leading easy-to-use prevention solution.

INSTALLATION IN SECONDS – TetherTies install permanently in 15 seconds or less. TetherTies are the fastest way to secure computer peripherals and deter loss or theft.

AVAILABLE IN STANDARD OR HEAVY-DUTY (HD) STRENGTH

AMERICAN MADE – TetherTies are made in the USA of high-quality, flexible, stainless-steel, nylon-coated wire cable. You will be hard pressed to find a better, more durable solution to keep your computer, adapters, and dongles secure with such a minimalist design.

BUDGET SAVINGS – Keep your adapters, cables, and dongles secure at ~5% of replacement cost. TetherTies are an easy and cost-efficient solution to keep your items nearby helping prevent having to buy new cables and adapters to replace missing, lost, or taken computer adapters, cords, and other items.

NO ASSEMBLY REQUIRED – TetherTies come fully assembled. Just place the end of your TetherTies cable tether around the item you want to lock down, cinch the tether until secure, and crimp it shut. Security in seconds with no hassle.

FREE TOOL – With your purchase, included is a crimping tool for fast easy installation. No additional tools or equipment are required to install TetherTies. Installation is simple and easy.

Product Specifications
TetherTies (pre-installation)

For scale: Apple MiniDisplay adapter (not included)
LengthPre-installation: 16 inches / Post-installation: 15 inches
Overall Dimensions16 x 0.1 x 0.5 inches
Choose between Standard or Heavy Duty Wire Strength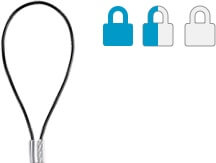 Standard TetherTies Multi-Adapter
Starting at
$39.99/5-pack
Minimum break strength

110 lbs

Wire type

Strong & flexible nylon-coated stainless steel wire

Ideal For

Preventing unintended removal in work environments

Theft Deterrence rating

Security Rating

Length

16" pre-assembled / 6.5" when installed. Custom lengths available
Heavy Duty TetherTies Multi-Adapter
Starting at
$49.99/5-pack
Minimum break strength

240 lbs

Wire type

PVC coated stainless steel wire 33% thicker than standard nylon

Ideal For

Enhanced level of theft deterrence in work and public spaces

Theft Deterrence rating

Security Rating

Length

16" pre-assembled / 6.5" when installed. Custom lengths available
Customer Ratings and Reviews